Let me start, as usual, with the disclaimer: These Dvds did not necessarily come out in 2005, 2005 is when I got them! This post is not a cumulative list, but a nice sampling of some little seen films...
"Natural City"
Dubbed "the Korean Bladerunner" this is a movie about the nature of humanity/man machine interface and an all around cool meditation in the vein of "Ghost in the Shell". While not as lyrical as that movie, "Natural City" is a thought provoking blast for the entire ride.
"Casshern the Robot Hunter"
Casshern" is a green screen success story, yet another Distopia populated by mutants, robots and creatures bent on becoming "neo-sapiens". It looks like Speilberg has picked this movie up for a possible release later this year. Pick up your copy from Ebay!Inventory of story elements: zombies, lightning bolts, mad scientists, ethnic cleansing, robots, mutants, nukes, trains, dictators and dreamers. Oh, and a blind botanist!
"Elektra Special Edition"
Both Daredevil and Elektra got "Director's Cut" extended versions. Elektra became unrated and marginally more watchable. I do like the idea of the director going back and doing it his way, with less studio interference. The other side of the coin is of course the double dipping. Jennifer Garner works nearly as hard as her asian counterparts in the film industry, and much harder than most of our American-bred heroines.
"Sin City Recut, Extended, Unrated"
Well, probably the best set of extras this year. Everything from Bruce Willis' band performing at the "wrap party" to cooking school...Also includes (ala Criterion) a full length Frank Miller comic!
"Immortel"
Immortel is a French Green Screen/CGI hybrid. It was written and directed by Enki Bilal, a multimedia artist usually seen creating magic in Heavy Metal magazine. Charlotte Rampling is a doctor studying the habits af a blue teared alien. Throw in a candy apple red hammerhead shark/human, a flying pyramid and a horny creator of mankind looking for a human to inhabit for a short time.
"Burden of Dreams"
Reviewed elsewhere in this blog.
"Tom-Yum-Goong"
Tony Jaa is the heir apparent to Jet Li (now filming his last martial arts film) and Jackie Chan--who is currently working with Jaa on a new film. He is Thai, and his fighting style incorporates various styles with an emphasis on Nuai Thai. While this movie is not actually much better than Ong Bak--neither is more than a terrific action film--it is always a treat to see Jaa do his thing.
"Pictoplasma"
This Dvd is a selection/documentation of the Pictoplasma Exhibit. It is all new animations, and comes with a hardback book of character studies from the various shorts.
"Fragile Machine"
This one is an all CGI 40 minute movie from Japan. It is a tragedy, told in several parts accompanied by music. Human/machine meld is the vehicle for a meditation on loss and existence.
"Wattstax"
This
link
provides a terrific overview of this historic Dvd. The footage of now defunct funk bands is absolutely priceless, as are the Richard Pryor interludes. A feel good bitter pill of a Dvd. The highlight for me was the Staple Singers performance..
"Talamanam Sound Clash: Further Adventures in Hypercussion"
Zakir Hussain, Bill Laswell and Karsh Kale document an outstanding world music adventure in this two disc set.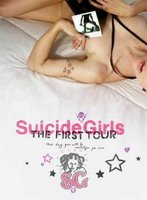 "Suicide Girls First Tour"
Those notorious faux punks faux feminists(feminist is not a derogatory term unmodded) continue to spread their undeniable fresh softcore across the nation with their live burlesque tour. This Dvd documents that first year. I can tell you the show is terrific, but the FBI pre-emptive appeasement left me cold enough to quit the site.
"B13 Banlieue 13"
This movie anticipated the
unrest
that rocked the suburbs of France this year. The French government has cordoned off a suburb a la
"Escape from New York"
, and lawlessness takes over. Drugs are omnipresent and socially corrosive. Gangs control the streets...and this is the story of the man "who fights back". Fantastic
Parkour
and Soundtrack!